Clarity in form and function, sleak in design, intuitive in operation. Siemens ovens allow you to cook with all your senses. Designed to cut down your work and expand your cooking options, they open up new possibilities. Try, for example, our models that steam cook or have microwave functions. Models come in a range of shapes and sizes to fit into your individual design concept.

activeClean® automatic self-cleaning. For the perfect kitchen.
Now you can enjoy your meals even more. Thanks to activeClean® you don't have to worry about cleaning the oven. Just press a button, and your oven cleans itself. In a process which is known as pyrolysis, the oven is heated to a very high temperature that causes the food remnants inside to turn to ashes. You can then simply wipe out the oven. It is not only the most efficient way to clean the entire oven interior - including the new pyrolysis-proof racks and rails - but also the most convenient. activeClean® makes it possible.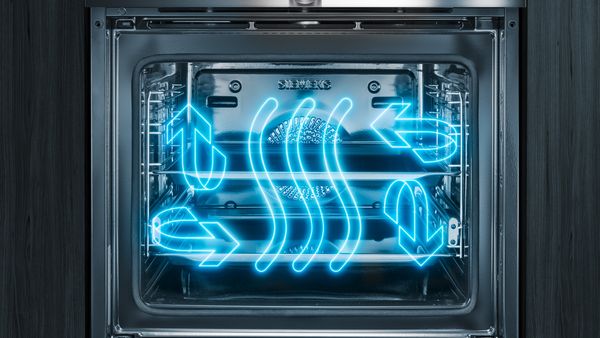 Perfect baking results with 4D hotAir and rack pull-out system.
Full flexibility to choose the rack you want to cook on. The innovative fan motor technology gives ideal heat distribution throughout the oven interior. Your dishes come out just like you want them, whether on the top, bottom or middle rack.
You'll never again have to ponder which level to put a baking sheet on. Whatever you bake, with the convenient pull-out system it always comes out right. You stay flexible at all levels.